Pneumatic Seals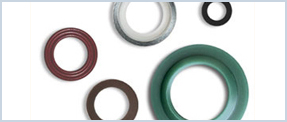 Valley Seal is a leading industry source for affordable and high quality pneumatic seals that endure the most challenging applications. These seals are made especially for cylinders and valves that are actuated by air, and often involve high speeds, and either rotary or reciprocating motion.

Safety is paramount in such operations, but our seals offer more than just that. They lend operational efficiency and cost savings all at once. Little wonder, then, that the most demanding applications confidently rely on pneumatic seals supplied by Valley Seal.

Why Do You Need Pneumatic Seals?
If you have pneumatic applications, it is imperative to restrict the flow of air or gases from pneumatic cylinders and valves so as to maintain the desired pressure levels. A seal also serves the dual purpose of preventing any solid, liquid, or gaseous foreign material from entering a pneumatic system. A seal for pneumatic application is especially designed in keeping with these requirements.

It is important to note that pneumatic seals are designed for applications that are subjected to less pressure levels than hydraulic applications. We recommend that you discuss the nature of your applications with us, so we can help you choose the best pneumatic sealing solution.

Defining Attributes of our Seals for Pneumatic Applications
Our seals are defined by their lower friction, wear resistance, high operating speeds, and secure sealing characteristics. If you have a requirement for seals for applications involving harsh chemicals, extreme temperatures, and variable pressure, Valley Seal has you covered.
We offer a ready stock of code-compliant and competitively priced seals in various materials according to the following sealing orientations:
Internal (rod seal)
External (piston seal)
Symmetrical seal
Axial seal
Using the right type of seal is integral to the safety of your people and processes. Please speak with Valley Seal engineers or sales correspondents for assistance with your seal requirements.