Back-Up Rings Distributor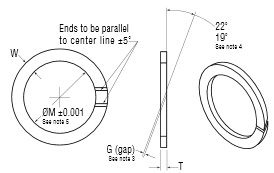 PTFE back-up rings are designed to prevent extrusion in rubber O-ring sealing systems

Rubber O-rings generally serve as effective seals for dynamic and static applications in hydraulic and pneumatic systems equipment. One big drawback of rubber O-rings is their tendency to extrude into the clearance of mating surfaces when subjected to increasing pressures and temperatures. Elevated temperatures (160°F and higher) impose a severe burden on the physical and mechanical properties of rubber O-rings, which further increases their tendency to extrude

TFC-086 is a material well suited for high-pressure, high-temperature applications against hardened and/or use with chrome non-abrasive compounds. It is suitable for use against both hard anodized surfaces and most non-heat hardenable metals. Both of these materials provide wear resistance superior to unfilled PTFE when used in conjunction with MIL-P-83461 O-Ring compound in MIL-H-83282 and MIL-H-5606 hydraulic fluids

In addition to the more common fills such as glass fibers, CoorsTek has accumulated considerable experience with back-up rings of Nylon, Kel-F, FEP, UHMW, PEEK, and others. We have produced this catalog using these materials as well as more specialized compounds of PTFE

CoorsTek is a leading designer and manufacturer of components, integrated assemblies for the semiconductor capital equipment market, and other high technology applications. Serving a wide variety of industries in the global economy, CoorsTek uses technical ceramics, presicion-machined metals, engineered plastics, and other high-performance materials to provide Amazing Solutions to enable our customers' products to overcome tech nological barriers and improve performance – especiallly in demanding or severe service environments. The CoorsTek highly qualified staff may assist with material selection and product design. Please contact us today at (818)883-3505 /(323)873-3630 for more information.