Parker O-Rings/ Parker O-Rings Distributor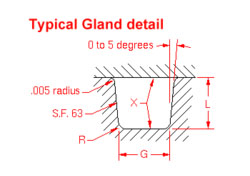 Established in 1966, Valley Seal has been catering to the needs of varied industrial sectors by supplying high grade and cost-effective O-rings and sealing components. Hitherto, Valley Seal is committed and dedicated to providing O-rings at the right time for preventing various kinds of fluids/liquids or gas loss.
Valley Seal – Authorized Distributer of Parker O-Rings

Valley Seal has gained a substantial competitive advantage in the market and has earned the trust of many customers from varied industries due to the distribution of O-rings of the industry leading manufacturer – Parker Hannifin. The seal group of Parker is the world's leader in the manufacture of O-ring seals for both OEM and MRO hydraulic and pneumatic applications. Widely established as a Parker O-rings distributor, Valley Seal possesses a huge inventory of high quality seals to help satisfy a broad range of consumer O-ring sealing requirements.
Why You Should Opt for Parker Seals?

Parker's name is prominent in the market due to its inventive seal development technology, top-notch material development, outstanding design, expert engineering, value added services and efficient customer service. World-class manufacturing facilities and expert technicians, help Parker to manufacturer wide assortments of O-rings to high quality levels in compliance to international standards. Parker O-rings are known for their unsurpassable material consistency, excellent dimensional control, and outstanding performance.
Some of the Advantages of Parker O-rings are:
Ease of service, no smearing or retightening
No critical torque on tightening
Light weight and less space required
Can be reused in many cases
They are cost-effective
They seal over a wide range of pressure, temperature and tolerance
They can handle enormous pressures
O-Rings can endure temperatures ranging from -200 degrees Celsius to +250 degrees Celsius
Can provide best sealing performance
Elastomers filled with nano-carbon and molded into O-Rings are apt for high performance applications
Easy to service
O-Rings breakdown gradually and can be identified easily
Why Contact Valley Seal for Sourcing Parker O-Rings?

Being an established Parker O-Rings distributor, we stock a huge inventory of various types of Parker seals that are capable of sealing enormous pressures. You will find a rich portfolio of Parker rings with us, such as:
Extruded and Precision Lathe Cut O-rings, seals and gaskets
O-Ring Kits for AS568 & Metric Sizes
Metal O-Rings
Back-up-rings
PTFE backup rings
Parker seals are Largely Purchased for Applications in:
Petrochemical Industries
Aircraft and Aerospace
Food Industries
Chemical Processing Industries
Photochemical Industries
Polymer Production
Paint and Coating Operations
Pharmaceutical Production
Pulp and Paper Industries
Semi-Conductor Manufacturing
Partner with Valley Seal and procure high quality, extremely durable and reliable Parker O-rings at cost-effective deals. We make sure that your order is fulfilled on time for executing various sealing applications with ease and efficiency.