Piston Seals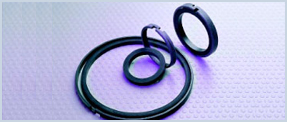 W4650 Physical Properties
| | | |
| --- | --- | --- |
| Physical Property | ASTM Test Method | Values |
| Tensile Strength | D-638 | 17,000-23,000 PSI |
| Compressive Strength | D-695 | 21,000-28,000 PSI |
| Flexural Strength | D-790 | 23,000-30,000 PSI |
| Water Absorption | D-570 | 50-.70% |
| Elongation | D-638 | 3-10% |
| Tensile Modulus | D-638 | 900,000 PSI |
| Shear Strength | D-732 | 10,000-12,000 PSI |
| Flexural Modulus | D-790 | 870,000-1,000,000 |
| Hardness, Rockwell | D-785 | 119-121 R 94-96 M |
| Deformation Under Load (2000 PSI @ 122° F) | D-621 | .2-.4% |
Code-Compliant Hydraulic and Pneumatic Piston Seals
Valley Seal is your trusted source for the widest variety of piston seals for both, hydraulic and pneumatic applications. Irrespective of the seal type you choose, our seals provide definitive advantages over competing products. Our seals are among the most durable ones on the market today, securing high-pressure systems effortlessly.
Pneumatic Piston Seals
Whether you need seals for basic applications or for high-temperature abrasive environments, our seals are designed to provide successful service. Having been in the industry for several decades, we know the seal designs and materials that work best. Our seals demonstrate excellent wear resistance in pneumatic cylinders and valves. They are designed for lower operating pressures than hydraulic seals, and are suitable for use in rotary as well as reciprocating motion.

Hydraulic Piston Seals
When you need unfailing protection in your heavy-duty hydraulic applications, look no further than Valley Seal for the best products on the market. We carry a special range of seals designed especially for use in hydraulic applications subjected to high pressures and temperatures. Valley Seal offers the industry-trusted OK sealing assembly that is suitable for working pressures up to 7250 PSI (500 bar) and above in some specific situations. The Piston Seals OK Profile is an effective and less expensive alternative to costly capped T-Seals and PTFE loaded cap seals. We can also honor your unique seal requirements for pneumatic and hydraulic fluid sealing applications. Please speak with Valley Seal engineers or sales correspondents for assistance with your piston sealing requirements.
Field of Application
Working pressure: 7250 psi (500 bar)
Working temperature: -40° F to 250° F
Surface speed: 3.28 f/s (1 m/s)
Ease of Installation
This durable two-piece seals are designed to be compressed in the bore upon installation to minimize seepage at the gap. The OK piston seals split design facilitates its installation on solid pistons without the necessity of auxiliary tools. The OK Profile can be snapped into closed-groove spaces. Note: The installation groove must be carefully deburred and cleaned of all foreign material. The cylinder bore must have a leading edge chamfer.
Compound Formulated to Extend Seal Life
The cylinder seal ring is produced of W4650, a glass reinforced nylon. The tensile strength and flexibility exhibited by W4650 provides maximum stretch during installation. Other beneficial characteristics of this material include the ability to capture and contain system contaminants such as metal chips, excellent compressive strength and the ability to resist extrusion or chipping when passing over cylinder ports. (See W4650 Physical Properties Table)
Expander Ring
This is an NBR-based elastomer with 70 shore A hardness. The rubber expander ring provides good compression set resistance which in turn increases potential seal life.