Renewable Energy Products Overview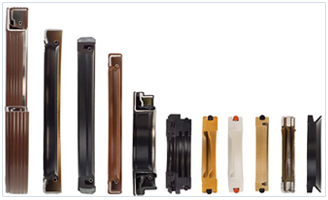 Rotary Seals for wind energy
High performance materials and patented designs deliver reliable, long seal life

Expansive selection of profiles in size ranges from 1/2" to 80" dia (12mm to 2032mm)
Split seal profiles available for easy installation
Read More

Protech bearing Isolators

Upgrading to ProTech provides:

Greatly extended seal life for the life of the bearing
Energy efficiencies
Design change ease
Availability of split designs facilitate easy field repairs
Wide range of available materials
Standard ProTech designs are available in sizes to 38", (965mm) diameter. Custom sizes as well as custom designs are available to 72" diameter (1828mm).

Read More
Clipper® Oil Seal Profiles

Parker EPS Division's Clipper® Oil Seal is the anchor of the rotary seal product line. The Clipper design features an integrally molded rubber fiber outer case and an elastomeric seal lip. The unique, nonmetallic construction will not rust or corrode and forms a gasket-type seal between the equipment housing and the seal outside diameter (OD). With a wide range of profiles and material options, Clipper seals are available for shaft diameters from 0.250" (6.35 mm) to over 65" (1651 mm).

Clipper Split Seals are known worldwide for being the easiest split seal to install because they do not require a coverplate to keep them in the housing. The robust, composite OD provides the best retention of any split seal on the market. Replacing failed seals in the field with Clipper Split Seals saves on downtime and lost production expenses. To make replacement even easier, specify Clipper solid seals as the OEM solid seal. When cutting a metallic seal is required for in-field replacement, there is the the possibility of metal shavings entering the bearing. The non-metallic design of the Clipper seal eliminates this possibility.

Read More
Metal Gaskets

Wire mesh EMI gaskets include knitted mesh stripes, mesh frame gaskets, compressed mesh and wire mesh with elastomer cores. SOFT-SHIELD gaskets meet the needs of low-cost, low closure-force shielding applications.

Read More
Metal Gaskets

Wire mesh EMI gaskets include knitted mesh stripes, mesh frame gaskets, compressed mesh and wire mesh with elastomer cores. SOFT-SHIELD gaskets meet the needs of low-cost, low closure-force shielding applications.

Read More
Thermally Conductive Adhesive Tapes

THERMATTACH tapes are double-sided adhesive systems that replace mechanical fastners for bonding heat sinks to ceramic or metal packages. They provide excellent thermal, mechanical, environmental and chemical properties. .

Read More
Thermally Conductive Fully Cured Dispensable Gap Fillers

THERM-A-GAP Dispensable Gap Fillers are ideal for applications where gap filling pads overstredd component solder joints and leads which can result in catastrophic system failure. These materials are highly conformable, one component, pre-cured silicone gels that can be dispensed to fill large and uneven gaps in electronics assemblies.

Read More
Thermally Conductive Gap Fillers
THERM-A-GAP elastomers are used to fill air voids between PC boards or high temperature components and heat sinks, metal enclosures and chassis. The exceptional conformability of these advanced materials enables them to blanket highly uneven surface, transferring heat away from individual components or entire boards and allowing chassis pats to be used as heat spreaders where space is restricted.

Thermally Conductive Insulators
CHO-THERM thermally conductive, electrically insulating interface materials consist of silicone, fiberglass and ceramics. They are produced with numerous thermally conductive, dielectric fillers that transfer heat from electronic components to heat sinks or other heat sinking devices.
Thermal Greases and Gels
Our thermal grease is formulated to efficiently conduct heat and fill the voids between hot components and heat sinks. These are non-curing, dispensable, highly conformable materials which require no cure cycle or mixing and dispenses to fill highly variable tolerances in electronics assemblies. The material is thermally stable. They require virtually no compressive force to deform under assembly pressure leaving solder joints and leads stress free.