Hydraulic Seals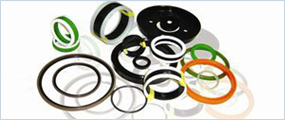 Valley Seal provides you with one-stop procurement solutions for hydraulic seals. Our handpicked selection of dynamic as well as static seals ensures the safety of your hydraulic operations. As a leading hydraulic seal distributor, Valley Seal maintains a ready inventory of the highest grade of seals that can be shipped to your destination of choice.
We customarily honor small, medium, and large scale requirements for clients in the industrial machinery, aerospace, and military arenas.
Made using the highest grades of polyurethane, elastomers, PTFE, and thermoplastics, or a combination of materials, the seals we sell are considered the workhorses of your hydraulic operations. Valley Seal carries a varied inventory with seals in numerous cross sections, outer diameter, and inner diameter.
Hydraulic Seals – An Overview
Valley Seal is one of the few distributors that carry an extensive range of seals for hydraulic operations—both in terms of width and depth of inventory. Some types of seals that we stock and supply include: rod seals, symmetrical seals, piston seals, wipers, wear rings and bearings, O-rings and head seals. Valley Seal's seal selection experts will help you choose the right type of seals depending on critical parameters of your operations such as temperature, pressure, load, vibration, caustic or corrosive fluids, and so on.

All of our inventoried products are tested for performance in sophisticated laboratories, giving you the assurance of safety and performance.

See Special notes for more guidelines.

When you do business with Valley Seal, responsive service and competitive prices are a given. To know how we can fulfill your requirement for hydraulic seals, give us a call at (818) 883-3505 or (323) 873-3630.
Get quality hydraulic seals at a good price.