Life Science Product Overview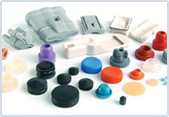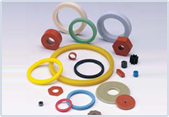 Typical applications include
closure seals on plastic devices

diaphragms and bellows

door seals, both small and large

medical grade tubing

sanitary gaskets

small container seals

small container seals

sterilizer gaskets

stoppers

syringe tips

vial cap seals
Seals for life sciences have a variety of sealing challenges for critical components and processes. Our seals are used in medical devices, diagnostic drug delivery, pharmaceutical manufacturing and bio-tech.
Valley Seal offers a wide range of specialty elastomers to satisfy the unique sealing needs for life sciences,including materials compliant to FDA and USP Class VI standards. Materials
Read More

Valley Seal is also an authorized distributor for Parker's Medical Systems Division. Please contact us today to help fill all of your medical product manufacturing needs!!

Parker's Medical System Division offers medical thermoplastic and thermoplastic elastomer injection molding capabilities. Material selection includes:


Silicone Medical Device Assembly
Parker's extensive silicone device assembly, fabrication, and packaging is completed are our FDA Registered ISO 13485 certified manufacturing facilities. We contract manufacture the following types of silicone devices in either Class 10,000 certified clean rooms:
ABS
Acetal
Acrylic
Carbon fiber Composites
EVA
LCP
Nylons including glass filled

PEEK
Polycarbonate
Polyetherimide (PEI)
Polypropylene
PTFE
Thermoplastic elastomers to 5 shore A

Read More
Cardiovascular catheters
Feeding catheters & devices
Endotracheal catheterslittle
Multi-port urological catheters
Nasal airways with single & dual balloons
Orthopedic devices

Pediatric catheters
Peritoneal dialysis catheters
Surgical wound drainage tubes
Trachestomy catheters
Wire-reinforced diagnostic catheters

Read More
General Medical Devices
We are a single source FDA registered and ISO 13485 certified finished medical device engineering & manufacturing firm, offering single use devices, non-sterile reusable devices and in-vitro diagnostic assembly, testing, packaging, sterilization and distribution.
Class I, II and III medical devices:
Audiology
Cardiac cath lab
Cardiology
Chronic care
Clinical laboratory
Critical care

Emergency room
Labor and delivery
Neurology
Operating room
Respiratory
Sleep labs

Read More
Single and Multi Lumen Tubing

With in-house precision extrusion tool & die building capabilities, Parker's Medical Systems Division offers OEMs a wide range of medical grade and multi-lumen tubing and extruded profiles.
Color coded tubing & rods
Continuous laser monitoring of tubing size during extrusion
Custom and standard sizes
Medical grade silicone from all major suppliers
On-line cutting to length & 50 ft. coils

Profiled tubing & rods
Single & multilane tubing
Wire-reinforced tubing
X-ray striped & X-ray opaque tubing

Read More
Packaging

Parker's Medical Systems Division can assist in all aspects of packaging selection and utilize vendors who deliver quality materials, on time and at reasonable prices. We will arrange D.O.T. approved transit testing for your product as requested. All of our packaging equipment is fully validatable and incorporates total process controls.

Read More
Hygienic Sanitary Gaskets

Compression controlled gaskets offering long term sealability, excellent wear performance, complete material traceability and easy installation. Designed to meet typical ASME-BPE hygienic clamp unions with nearly slush interface, preventing the entrapment of any media within.

Read More