Energy, Oil, and Gas product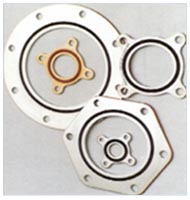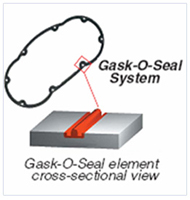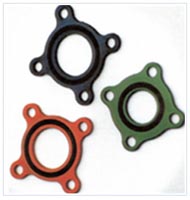 Gask-O-Seals have the elastomer molded directly within the groove or grooves of metal or plastic retainer. During assembly, the rubber seal is deformed a predetermined amount to very nearly fill the void areas to achieve controlled confinement, Gask-O-Seals are very reliable elastomer-bonded-to-metal or plastic sealing devices intended for applications requiring extreme reliability, longevity and durability. They are used in a wide range of military, communications, aircraft and marine applications.

Integral Seals


Integral seals are custom engineered sealing devices designed to solve specific customer sealing problems. The integral seal design bonds the elastomer sealing element to thin metal or engineered plastic retainer plates, allowing for a very complex sealing geometry, ease of assembly and reliable service in a single seal element. These reliable seals are best suited to high-volume OEM or retrofit application in automotive, industrial, aerospace and military applications.
PTFE FlexiSeals


Our full line of spring energized PTFE lip seals are used on rod, piston, face and rotary sealing applications. FlexiSeals are typically used in areas where elastomeric seals cannot meet the frictional, temperature, or chemical resistance requirements of the application. Utilizing a variety of jacket profiles, PTFE compounds, spring types, and lip configurations, these seals can be designed to meet the requirements of the most demanding seal environments.
PTFE Fluid Power Seals


PTFE fluid power seals include piston seals, rod seals, buffer seal rings, rod wipers, rotary swivel seals and wear rings. Standard inch, metric and custom designs are available. PTFE seal materials are produced in all of the standard filled or unfilled configuration from compounds commonly used in hydraulic or pneumatic PTFE fluid power components. Proprietary high-performance compounds are available for especially demanding applications.
Custom Molded or Machines Shapes


Custom molded or machined seals are available in virtually infinite range of shapes and cross sections including blowout preventers, packer elements, diaphragms, drill pipe casing protectors, hammer union seals, packer cups, cement plugs, liner wipers, flex plugs, oil saver rubbers, pipe wipers, rod strippers, swap cups, pulsation dampeners, test cups, and water saver rubbers. Valley Seal's custom seals are molded or machined using a wide variety of processes including compression molding, transfer molding, injection molding and liquid injection molding. These seals are designed to work as individual components, or in combination with other sealing products in a system. Our custom machined seals are molded and cut with precision tooling to a given geometry utilizing the latest technology, ensuring the highest quality.
Fastener and Fitting Seals


Fasteners and fitting seals provide reliable static sealing for screws, bolts, tube fittings and other fasteners. Available designs are Stat-O-Seals for sealing under the heads of bolts and other similar fasteners, ThredSeals for sealing around the thread roots of any threaded fastener and Lock-O-Seal for sealing tub fitting bosses. Parker fastener and fitting seals are available in a wide range of standard size, retainer materials, compounds and surface finishes. Standard and custom fastener seal kits are also available.