Custom Engineered and Gask-O-Seals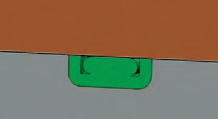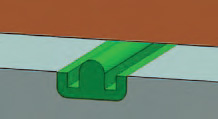 Under pressure of assembly, the rubber compound is deformed from a round configuration to a square or oblong shape as shown in the figure. By predetermining and manufacturing the proper ratio between the volume of the molded in voids and the volume of the crown, controlled confinement is obtained. The Gask-O-Seal is designed so that the elastomer is deformed against the faying surfaces, affecting the seal by the inherent "memory" or resiliency of the elastomer as it tries to return to its original molded shape. There are many features and benefits that come with Gask-O-Seal design in static face seal applications.
Features
Product Image
Benefits
Molded in Place
Sealing element precisely and permanently molded in place, allowing for ease of assembly. Secondary machining in mating hardware is not required, reducing hardware costs.
Volume/Void Ratio
Provides the most optimum setting for the fully compressed seal
element during assembly – no over fill and no under fill.
Visual Detection
Can be visually inspected to verify proper assembly.
Point Loading of Seal
Permits reduced flange thickness, smaller bolts and bolt circle.
The force required to load the Gask-O-Seal metal to metal can
be predetermined with closely controlled crown height.
Alternative Load Path
No retorquing required due to metal to metal contact. The load path
established through the metal retainer assures positive closure and
optimum bolt loading.
Limited Area of Attack
Limited area of seal exposure to fluid attack protects the elastomer
and provides longer life. A mere 2% or less exposure of seal surface
to the media.
Low Permeability
Yields extremely low permeability rate in vacuum and other
gaseous applications with controlled percent squeeze and volume/
void ratio.