Parker Seals Distributor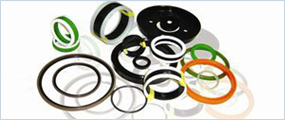 Procure Parker Seals from Valley Seal at Reasonable Prices

Valley Seal makes sure that we sell only quality seals that provide optimum performance and durable service in any critical and demanding sealing applications. We partner with only those who manufacture high quality seals with exceptional operational performance and versatility. Excellent design and expert manufacturing tactics have made us build an alliance with Parker. Now, Valley Seal is the trustworthy Parker seals distributor who caters to varied industrial sectors with various categories of seals.
Why should you opt for seals Manufactured by Parker?
Parker follows certain design parameters for producing O-Rings. Parker O-rings are compressed to a fixed amount as this compression determines the O-Ring cross section diameter. The inner diameter of O-Ring is almost similar to the inner diameter of the groove. This allows O-Ring to stretch and stick to the groove. Experts at Parker design O-rings in such a way that the cross-section diameter of the ring must be smaller than groove width to allow the radial expansion of the O-Ring when it is pressed in the cavity.
Parker takes immense care while selecting materials for manufacturing seals. They analyze the anticipated environment in which it will be used. Other factors such as chemical behavior, temperature and pressure etc are also taken in to consideration for developing strong and durable O-Rings.
Parker possesses state-of-the-art machine setup and cutting edge technology to produce O-Rings as per SAE AS568A standards and customized O-Rings. From the beginning to the final stage of production, Parker engineers ensure to lend supreme material consistency to our customer needs.
Valley Seal – Delivers Parker O-Rings to Provide Complete Solution for all your Sealing Needs
Over the last several years, Valley Seal has been distributing Parker seals for industries such as automotive, defense, semi-conductor and so on. Also, the seals are widely used for demanding aerospace and vacuum applications to ensure safe operations and reliability.
Widely known as a reliable Parker seals distributor, Valley Seal ensures to provide appropriate sealing solutions to prevent various kinds of fluids/liquids or gas loss.
Partner with the industry leading seal distributor in the market to avail solution or total sealing at low cost. We also assure you quality and quick service. To make the apt Parker O-rings selection we recommend that you use PHorm design software for guidance. This software can also be used to design your own customized O-ring glands and seal as per your requirements.