Freudenberg-NOK Sealing Technologies Seals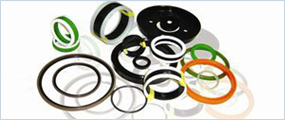 Valley Seal – Certified Distributor of Freudenberg Seals
Freudenberg NOK Sealing Technologies is a leading manufacturer in Europe and America for various types of industrial seals, o-rings, piston seals, and shaft seals. The company's sealing products are well-known fortheir cost saving benefits such as superior speed, efficiency, quality, and flexibility. Freudenberg provides solution driven products by using global processes and world-class manufacturing methodologies.
The Freudenberg Advantage
The processes for manufacturing Freudenberg's global recognized sealing products include injection molding and optimized sealing systems. Freudenberg has the capabilities to produce axial seals, radial seals, and pad seals using high grade silicone and injection molding processes. Freudenberg also offers injection molded plug-in connector seals for power transmission and aerospace applications.
For pneumatic and hydraulic systems, Freudenberg engineers design every part of the sealing system from the primary and secondary seals to the wipers and guide rings. The company also specializes in designing and developing augmented sealing technologies. Some of their latest developments include new elastomeric materials, and an elastomeric encoder to enhance the speed, reliability, and durability of the seals.
Freudenberg has partnered with a number of seal distributors to enhance their product reach in America. Valley Seal is proud to say that it is one of Freudenberg's leading o-ring and seal distributors in the United States.
Procure Quality Industrial Seals from Valley Seal
Valley Seal has earned a huge customer base in America thanks to our unsurpassed distribution of Freudenberg seals and O-rings. What makes us stand apart from other seal suppliers is that we offer complete sealing solutions to our customers.
We work with our customers to understand their sealing requirements. Our expert engineering and skilled sales correspondents recommend the best materials to suit your industrial applications including:
Silicone
PTFE
Polyurethane
Chloroprene
Viton
We have gained the trust of clients throughout the United States thanks to our comprehensive sealing solutions and quality systems. All products supplied by Valley Seal go through a certified third party quality system, and adhere to regulations of AS/EN/JISQ9120:2009 and ISO 9001:2008.
We have fulfilled the sealing requirements of many companies from various industrial sectors such as:
Transportation
Energy
Aerospace
Military and Defense
Communications
Renewable energy
Oil and Gas
Semiconductor
We are here to provide you with the sealing solution that you need. Our customer care representatives can provide with the requisite steps to procure Freudenberg industrial seals. To know more, please contact us via phone at (818) 883-3505, (323) 873-3630.